"This is the "Petscop 5" page. Judging by all the text. Wish I could read it.... What even is this?"
This article is incorrect, outdated, or otherwise needs improvement. Help update the page by editing it.
The specific problems are: Could use more formal rewrite, formatting fixes
"Petscop 5" is the fifth video uploaded. It was uploaded on April 11th, 2017. The video description begins with "Hello folks. I guess this is for all of you, now." and continues with a list of questions asked by Paul to Red TOOL and its responses (see below).
A transcript for this episode can be accessed at Petscop 5/Transcript.
Synopsis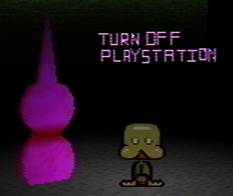 Paul asks the Red TOOL a number of questions which he had found to give unique responses when playing the game off-camera. The Red TOOL abruptly changes from its usual pale red color to bright pink, surprising Paul. When asked "Who are you?" it now responds with "TURN OFF PLAYSTATION". Paul asks "Why?", to which it replies "MARVIN PICKS UP TOOL HURTS ME WHEN PLAYSTATION ON". These answers differ from the ones given when the TOOL is in its red form. Additionally, they are in block capitals instead of a handwritten font and take much longer to appear, depending on the length of the message.
Before Paul can respond, the TOOL reverts to its red color and gives ordinary answers as it did previously. Paul decides to wait for it to change color again.
Video Description
Hello folks. I guess this is for all of you, now.


The following are the questions where the response was "I don't know":

Care?
Mike?
Michael?
Who is Care?
Who's Care?
Who is Mike?
Who's Mike?
Who is Michael?
Tiara?
Who's Tiara?
Where are you?
When am I?
What is NLM?
NLM?
Newmaker Plane?
Who is Newmaker?
Newmaker?
What is Petscop?
Petscop?
How to see windmill?
See windmill?
Windmill?
What is this?
bababababab?
!?
??
Who is Marvin? (we asked this one after the video ended)
Who's Marvin? (same as above)
Marvin? (same as above)


The following are the questions with real responses (so far):

Who is Tiara?
Answer: Petscop kid very smart

Where am I?
Answer: Under the Newmaker Plane

Who am I?
Answer: Newmaker

Who are you?
Answer: Tool

Remember being born? (the full question "Do you remember being born?" didn't fit)
Answer: I'm not Tiara

When the color changed, we were able to ask two questions:

Who are you?
Answer: TURN OFF PLAYSTATION

Why?


Answer: MARVIN PICKS UP TOOL HURTS ME WHEN PLAYSTATION ON
Video