Welcome to the Petscop Wiki
This wiki is a work in progress, and Petscop is not yet a finished work. Please be patient with us!
With a total of 108 articles, and 4,236 edits, our wiki has been growing since its founding on April 17th, 2017.
Index
About
Petscop is an ARG about a PSX game of the same name. The videos are posted on Youtube on a channel of the same name and narrated by a person who may or may not be named Paul.
For more information about the Petscop game, see Petscop.
Latest activity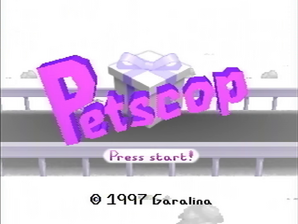 External Links
---
To-do list
---
Add everything relating to Petscop 7
Add a custom Wikia layout
Improve custom CSS
Add Navboxes
Wikia badges (pending!)
Episode pages? (perhaps later)
Add character color dropdown to editor (contact Petscopinvestigator if you'd like to help with this)